The Global Liner Performance report, Issue 132, from Sea-Intelligence shows that schedule reliability worldwide is on the rise and will reach 40.5% in July 2022, up 0.5 percentage points M/M.
Since the beginning of the pandemic, schedule reliability has increased year over year twice. Ever since the beginning of the year, the average LATE vessel arrival delay has been rapidly decreasing, tapering down slightly in recent months.
The average delay decreased by 0.09 days M/M in July 2022, putting it solidly below the 7-day threshold and improving over the corresponding 2021 figure.
This fact sheet will only talk about the global highlights of the full report, which is very detailed and looks at the reliability of schedules across 34 different trade lanes and more than 60 different carriers.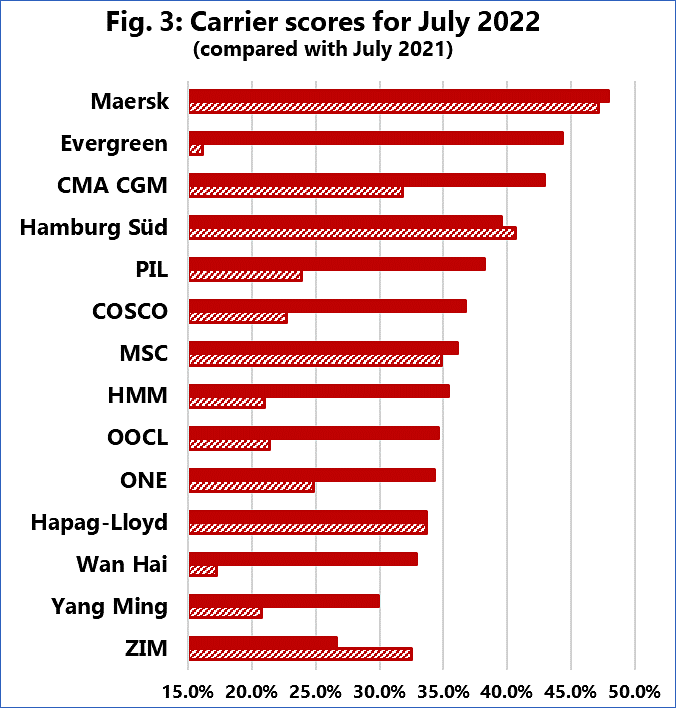 Maersk was the most dependable carrier in July 2022 with a schedule reliability of 48%, followed by Evergreen with a schedule reliability of 44.3%. Additionally, CMA CGM noted a schedule reliability of more than 40%.
Only two carriers had schedule reliability of 20%-30%, whereas 9 carriers had schedule reliability of 30%-40%. Several carriers were quite near to one another in terms of schedule reliability in July 2022, with 10 carriers being within 10 percentage points of one another.
In July 2022, ZIM's schedule reliability was the lowest at 26.6%. 11 of the top 14 operators experienced an increase in schedule reliability year over year in July 2022, with 7 carriers experiencing double-digit increases.