The digitization of cargo transportation processes is an evolutionary step change, presenting new challenges and opportunities for freight forwarders. But one thing is clear: embarking on the digitization journey is no longer optional for international freight forwarders. These seven trends all have ramifications for shippers and will be worth watching during 2019.
Trend #1: Freight Forwarders Increase Focus on Cyber Security
It was more than a year and a half ago that shipping giant A.P. Moller-Maersk became the victim of a cyber attack that crippled the company's infrastructure, and caused severe disruption at ports around the globe.
The incident was a wake-up call for the freight forwarding and shipping industries, stimulating forwarders' consideration of the need to strengthen data protection and guard against future attacks.
Since the cyber-calamity took place, freight forwarders have been shifting with the times, transitioning from traditional processes to faster, more responsive, digital solutions, and while doing so, their focus on cybersecurity has not diminished.
They have also felt pressure to strengthen data privacy and security due to the 2018 implementation of the European Union's General Data Protection Regulation (GDPR), which imposes stringent data protection requirements on European logistics companies, and a similar onus on freight forwarders around the world due to the interconnected nature of IT systems.
Trend #2: Growth and Diversification of Digital Freight Solutions
It has become essential for international freight forwarders, shipping lines, and other participants to bring new digital solutions online.
The freight sector may have been late to the digitization party compared with some other verticals, but now there is a palpable sense of urgency as incumbents and startups alike deploy the latest technologies to solve a range of industry problems.
A range of different platform types has emerged, each designed to solve a particular problem for forwarders or shippers. Some examples include:
Transportation management systems that connect shippers with forwarders or carriers
Tools to help forwarders generate tailored shipping schedules and provide targeted delay alerts
Online freight marketplaces that enable shippers to compare freight quotes from different forwarders
Digital freight forwarding platforms offering integrated shipping services (including online quotes and booking, door-to-door shipping, customs clearance, freight tracking, and payment solutions)
Trend #3: Freight Quotes Have Found the Fast Lane
From the customer perspective, the arrival of the online freight-shipping quote should be a breath of fresh air. Why would they wait up to 100 hours for a quote from a traditional, non-digitized forwarder once it becomes possible to get quotes from digital forwarders and complete a booking in a matter of minutes.
Right now, only a handful of international freight forwarding companies and carriers offer these. Of those, only Shipa Freight currently provides instant quotes for full-container-load (FCL) shipments, in addition to LCL and a full range of air freight options. But clearly, savvy shippers are creating this kind of online platform.
SMEs save time through instant quotes and by dealing with forwarders on a transactional, shipment-by-shipment basis—but there are advantages for the forwarder too.
Firstly, by providing instant quotes and the convenience of an online platform for bookings, forwarders make their services more accessible to the fast-growing community of internationalizing SMEs. Secondly, when customers use an online platform, they input their data directly, eliminating labor costs involved in traditional quotation and booking requests.
Trend #4: Shippers Can See More and Know More
A seamless end-to-end experience is an essential element in the digital freight forwarding company's marketing and sales proposition.
To deliver such an experience, forwarders must provide unprecedented levels of visibility and ease of shipment tracking.
The first step is to aggregate shipment data from the many systems involved in ocean or air freight transportation, and present it to customers via a single user interface. The next is to enrich shipping data even further with the aid of the Internet of Things.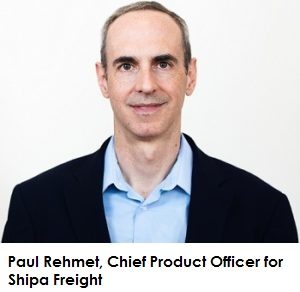 Shipment tracking is still mostly dependent on exchanges of electronic messages between various partners, but as logistics partners begin to layer in data from IoT solutions like the maritime Automatic Identification System (AIS) and electronic sensors (installed in ocean-shipping containers or even attached to product packaging), forwarders will be capable of more accurate tracking. If customers receive access to such solutions via forwarders' digital platforms, they will not only gain real-time insight into shipment progress but will also be able to monitor the condition of their goods—especially valuable for perishables or items sensitive to environmental fluctuations.

Trend #5: Customer-Centricity Front and Center
The freight-forwarding sector has traditionally been very process-focused. As globalization has taken hold though, and many smaller businesses find themselves in need of shipping services, freight forwarders are under pressure to cast off the conventional approach and place customers at the forefront of modernization efforts.
Digitization is one of the key tools helping more progressive logistics providers bring this transformation about.
Some ways forwarders are applying digital solutions to improve the customer experience include:
Fulfilling customers' quotation requests in minutes instead of days;
Making quotes more transparent by providing a full breakdown of fees and surcharges;
Increasing visibility and access to information for shippers;
Providing customers with a fully integrated suite of functions, from quotation to last-mile delivery;
Implementing self-service and assisted value-added services (such as compliance assistance and professional guidance) through process automation.
Other steps that international freight forwarders are taking to build customer relationships include developing user-friendly, easy-to-navigate websites and cultivating a stronger online presence, including strategic content marketing and social media activity.
Trend #6: Logistics: The Second Home of Blockchain?
Despite the hype about how blockchain will revolutionize everything, logistics is one of the few areas where it is already making an impact.
Maersk's TradeLens technology, for example, is a blockchain solution currently in use to streamline and secure the exchange of information between more than 90 companies and organizations involved in global shipping activity.
Another example is the TEU token system by a startup called 300Cubits, which promises to solve the problem of cargo no-shows at ports and the overbooking of capacity practiced by carriers as a countermeasure. The shipper and the carrier deposit cryptocurrency tokens as part of the freight booking transaction. If the shipper's freight arrives at the port as agreed, both parties get their tokens back.
However, if the freight is a no-show at the port, the shipping line receives all the deposited tokens.
It is probably too early to say whether solutions like these will revolutionize the freight forwarding industry, but blockchain technology certainly appears to be gaining traction.
Trend #7: Global Trade Complexities Abound
In the new age of global trade, complexities and conflicts are hard to plan for and no longer have localized impacts, meaning the agility digitalization can bring is more important than ever.
Events such as the China/US trade war or the United Kingdom's chaotic progress toward exiting the EU can impact on shipping strategy and execution. The trade war, for example, makes it difficult for shipping lines to position assets effectively. Trade lane requirements can change with very little notice, and rates can fluctuate significantly.
Meanwhile, the outcome of Brexit is a complete unknown. The divorce could render companies trading between the UK and EU subject to expensive tariffs. Port delays might disrupt carefully engineered just-in-time supply chains. The imposition of trucking permits could create a road-freight capacity shortage and drive shipping rates up.
These issues are just the start: globalization means shippers will continually need to navigate new issues. Agile businesses need agile partners, and it will be the logistics providers and freight forwarders that leverage technology to provide that agility that will flourish.
About Shipa Freight
Shipa Freight is a new online platform powered by Agility that makes it easy to get air and ocean freight quotes, book, pay and track your shipments online. With our global network of logistics experts and industry-leading technology, we ensure that your goods arrive safely and reliably every time. Agility offers air, ocean, road freight forwarding, warehousing, distribution, and specialized services in project logistics, chemical logistics and fairs and events in over 100 countries worldwide.