The Middle East, North Africa, Central Asia and South Asia hold the largest selection of freight and urban transport projects across the globe, with over US$642 billion worth of planned railway investments, according to Terrapinn Middle East, organiser of Middle East Rail, which will be held from March 7and 8in Dubai.

"Within the next 10 years, we will see a complete reform of mobility across emerging markets," said Jamie Hosie, Event Director of Middle East Rail 2017, the biggest and most established transport and logistics event in the region. "Congested urban roads, increasing populations and the need for seamless trade corridorscontinue to drive immense investment in the railway sector– and with the effects of low oil prices subsiding, new projects, extensions, upgrades and improvements are back on track."
According to a report produced by Terrapinn Middle East in collaboration with leading construction projects tracker VenturesONSITE, the value of total GCC rail projects in pipeline stands at over US$240 billion, with US$69 billion worth of projects currently under construction.In terms of overall expenditure on rail, the Kingdom of Saudi Arabia(KSA) and the UAE remain atop all of theGCC. As of January 2017, KSA hadregistered the highest rail construction project value of 50 per cent, followed by the UAE (18 per cent) and Qatar (17 per cent).

Key projects expected to be awarded to contractors in KSA market in 2017 are Zulfi – Al Majmaah Passenger Railway, North South Rail – Waad Al Shimal – Turaif – Al Jouf (ST320), Makkah Mass Rail Transit (MMRT) – Makkah Metro.

The planned investments of US$30bn in UAE's railway networks include that inAbu Dhabi Metro and Light Rail, skyTranYas Island, the next stages of the Etihad Rail national network, the Dubai Metro extension for Expo 2020 and the new stages of the Al-Sufouh Tram.

For the 11th edition of Middle EastRail, the organising committee has extended its project focus to new markets, including Central Asia and Indian Subcontinent, in addition to MENA region. Over 350 world-class construction and engineering companies, contractors and solution providers, E2E's and international operators, and rail experts will participate to offer their services and play their part in the systems of the future.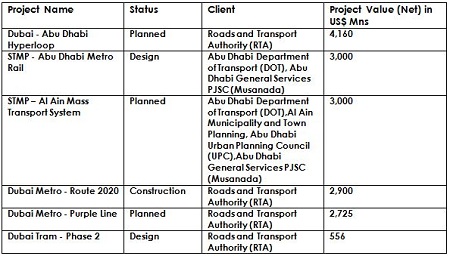 The show will be held in partnership with the Ministry of Infrastructure Development and the Federal Transport Authority – Land & Maritime and will once again deliver an unprecedented conference, hosting over 200 speakers, who will discuss their experience and insights within the rail industry.

"Operators are looking to source new technologies, educate their staff on best practices and find the perfect partners for 2017. There are a number of obstacles facing new rail projects apart from project finance, such as operational structures, technological expertise and political dynamics of cross-border networks. We have tailored a programme aligned with the growing needs of the industry, providing an unrivalled platform for key players to come together to learn, network and discover new opportunities," added Jamie.
Last year, following a lead secured during Middle East Rail, Xrail Group was awarded a key contract to undertake the installation and testing of a remote conditioning monitoring system which will be used for Dubai Metro.

A series of interactive sessions have been designed to introduce both 2017 tenders and innovative technologies being implemented to build and operate these futuristic networks.

Features this year will include the Demo Zone, where new and exciting products are exhibited; SME Zone, where visitors can meet the very best local companies looking to enter the market; Career Zone, for students looking to potentially work within the rail industry; and Country pavilions.
For more information or interview requests:
Layla Haroon, Consultant
lharoon@bellpottinger.com
055 636 0425