Now in its 12th year, Middle East Rail has grown to become the most significant rail event in the region, not to be missed.Dedicated to the heart of rail developments acrosssome of the most exciting regions in the world, Middle East Rail is recognised as a leading international event.
It is the only rail event to be run in partnership with the UAE government, hosting more regional and international government representatives and buyers than any other rail show.
The event holds official patronage with the United Arab Emirates' Federal Transport Authority and Ministry of Infrastructure Development and is opened annually by His Excellency Dr Abdulla Belhaif Al Nuaimi, Minister of Infrastructure Development and Chairman of the Federal Transport Authority – Land & Maritime, UAE.
As populations and freight demands continue to grow and urbanised areas increasingly converge into large networks of mega-regions, Middle East Rail is strategically positioned to reflect the ongoing developments and updates in the region. Within the next 10 years we will see a complete reform of mobility across emerging markets in the Middle East, Africa, Central and South Asia. Covering $614bn worth of railway projects, mega trade corridors and smart cities, Middle East Rail is your gateway to the key railway projects happening across the region – the most exciting new networks in the world.
Middle East Rail is the unrivalled platform for the region's railway industry to come together, to learn, network and do business in just 2 days. Global companies come together to help build and operate brand new rail infrastructure, as well as upgrade legacy networks across the Middle East, North Africa, South Asia and Central Asia.
In 2018, Middle East Rail will once again deliver an unrivalled conference, hosting over 150 speakers across 3 conference tracks.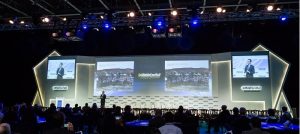 As the leading rail conference for the regional markets, our project overviews include those in South Asia and Central Asia – some of the most untapped markets globally.
Projects Covered at Middle East Rail 2018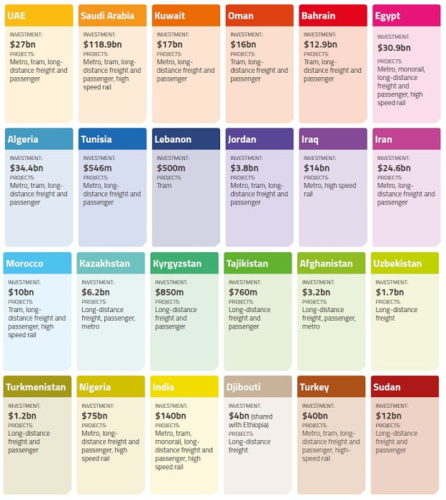 Middle East Rail will not only bring together transport ministries from the regional markets, but will also welcome rail developers, transport operators, government, contractors and suppliers to talk strategy, technology and innovation for passenger and freight projects. Our partners and solution providers are global leaders and innovators. They use Middle East Rail as their annual opportunity to meet and do business with new and existing customers.
From modernising legacy networks, to building transport corridors of the future, upgrading signalling and telecommunications systems, and financing new networks; Middle East Rail has it all.From the latest developments of the GCC connectivity network, to the modernisation of Egypt's rail lines; the Belt & Road links in Central Asia to the boom in Indian passenger and freight efficiency; operators from across theworld bring updates in the form of interactive roundtables, panel discussions and presentations.
In 2018, the conference agenda features more content on digitalisation, modernisation, privatisation and pioneering the future of Mobility 4.0. You can hear from leaders of innovation, big data, cybersecurity, digital transformation and more from global heavyweights such as RATP Dev, SMRT Trains, Deutsche Bahn, SNCF and more.
KEYNOTE SPEAKERS:
Patrick Ropert, CEO, SNCF Gares & Connexions,& Chairman of the Supervisory Board, AREP Group, France
Niko Warbanoff, CEO, DB Engineering & Consulting, & Chairman of International Business, Deutsche Bahn AG, Germany
James Cowan, President, The Greenbrier Companies, USA
Rolf Härdi, CTO, Deutsche Bahn, Germany
Jean-Jacques Thomas, Chief Innovation Officer, SNCF, France
Shahrin Salam, SVP – Plans & Development, SMRT Trains, Singapore
Harj Dhaliwal, Managing Director – Middle East & India, Virgin Hyperloop One
Mathieu Dunant, Head of Innovation, RATP Group, France