New for 2017, Intermodal Asia – the world leading exhibition and conference for the global container, transport and logistics  market – will launch the Industry Leaders Strategy Summit (ILSS)  which will take place on 21st – 22nd March 2017.
Bringing together leading experts within the intermodal and container industry, thisinaugural Summit will provide a platform to discuss strategic global issues and trends, as well as facilitating business networking.

The ILSS will explore the current and future state of the industry through focused themesincluding; 'On the Horizon: Outlook for Trade and the Market', 'The Container Industry: Moving Forward in a Changed Landscape', 'Smart Ports for the 21st Century' and an 'Update on China's One Belt, One Road'.

The summit will commence with Tim Smith, Chairman, China and Chief Representative, North Asia, Maersk Group, delivering theindustry keynote – 'Overview of the Market and Future Needs'.

In the same forum, Tim Power, Director Head of Maritime Advisors at Drewry, will present 'Global Economic Outlook for the
Container Industry', outliningDrewry'scurrent view of the liner industry and the key mid-term issues. "The liner industry is going through a period of rapid change" states Power."Internal industry factors and global geopolitics are generating a host of opportunities and risks. The key long-term issue is how does the liner industry establish a structure that will allow sustainable profitability?"

With the container industry coming out of a momentous year of change, 'The Container Industry: Moving Forward in a Changing Landscape' will be the focus of sessions in the afternoon of Day One, chaired by Greg Knowler, Asia Editor of IHS Maritime and Trade. "Attendees can expect to leave the panel sessions with a clearer idea of the issues faced by shipping lines and their customers and advice from industry experts on how to navigate the changing environment."

The shippers' perspective will be well represented within the Summit. A panel comprised of Dow Chemical, the Global Shippers Forum, the Hong Kong Shippers' Council and the Global Shippers' Forum will discuss, 'The Shipper's Perspective: getting the industry back on track'; an overview of the shipping industry's current environment and its impact on shippers.

Nik Delmeire, Secretary General at the European Shippers' Council, will co-present with Thomas Emil Jensen, from Maersk Line in the afternoon of Day 1. Their joint session 'Developing and Maintaining an Optimised and Transparent Supply Chain', will provide a greater overview of how to enhance speed, reliability, sustainability and efficiency of maritime supply chains.It will also discuss how to increase effectiveness of law enforcement and security through less intrusive technologies and seamless interoperability, allowing for "end to end visibility". The session will highlight an EU Funded project of whichMaersk is the partner.

The morning of day two will focus on 'Smart Ports for the 21st Century', chaired by Jason Chiang, Director, Ocean Shipping Consultants."Vessel sizes (capacity) have increased since the introduction of the 14,000 Emma Maersk in 2007. We could see 22,000 TEU in the near future" explains Chiang."To service these vessels, ports would have to invest in technology and equipment at their cost, often with minimal or no increase in revenue. Ports have turned to automation, investing in new technologies, upgrading equipment to tackle these challenges. We have a number of speakers from various leading ports in the region who will share with us how their port is coping with the challenge of handling larger vessels, giving us a good opportunity to understand how each company views and manages this situation."

Lars Anke, of the Port of Hamburg, will present on "Hamburg's SmartPORT initiative", a case study presentation sharing Hamburg's experiences with traffic management systems for road transportation and vessel traffic management. As Anke explains, "The necessity for ports and shippers to increase efficiency is obvious. The industry still is facing big economic challenges, at the same time there are new regulations in the field of environmental protection as well as technical developments in the shipping industry. The smartPORT initiative aims to find solutions for those challenges in the framework of one of the world's most efficient ports".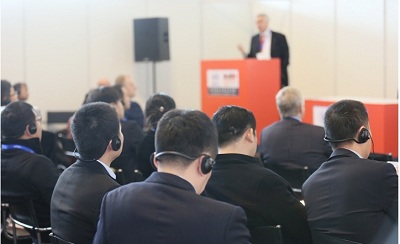 Also looking at how technology can deliver a leading Global Shipping hub will be ArtinSongbing Ding, General Manager of Strategy and Research Department at Shanghai International Port Group (SIPG).

The afternoon sessions will deliver an update on China's 'One Belt, One Road', with presentations given by speakers including; Edoardo Podesta, Managing Director of Air & Sea Logistics Asia Pacific at Dachser, Henry Tillman, Chairman and CEO at Grisons Peak Investment and Jianwei Xu, Associate Professor, Business School, Beijing Normal University.

KeesKuijken, Board Member of New Silk Way Logistics and CEO at KLG Europe will present a case study on the 'End-to-end intermodal logistics between Chinaand Europe'. Within this session, Kuijken will share the experiences of New Silk Way Logistics' specialised train connection from China to Europe and the many new developments on the eastbound initiative that NSWL have made, offering a different approach to controllability of the train product."2017 will present the challenge of keeping a proactive attitude towards capacity in the market," explains Kuijken."Therefore, it is imperative for the industry to adopt full visibility and flexibility at every step of the supply chain to ensure market sustainability and growth over the next few years."

Following which'Customer Satisfaction of China Europe Trains' will be presented by Tatiana Serova, Commercial Director, A.R.T Logistics. "The Customer Satisfaction of China Europe Trains is a very important factor in the product, especially with the view that the subsidy will not exist forever" states Serova."Without the support from the market, it is impossible for this to become a steady logistics solution."

Other confirmed speakers in the Summit include representatives from;ABN AMRO, China Container Industry Association (CCIA),Crane Worldwide Logistics LLC,Erasmus University Rotterdam, JSC Georgia Railways, Korea Maritime Institute (KMI),SeaIntel Maritime Analysis and Shanghai International ShippingInstitute (SISI).
To book your delegate pass for the ILSS, please contact Chelsea Tossoun on Chelsea.Tossoun@informa.com
To speak, exhibit or find out more information about the ILSS and Intermodal Asia 2017, please contact Sophie Ahmed on sophie.ahmed@informa.com or + 44 (0) 207 017 5112.Please visit www.intermodal-asia.com for further information.

About Intermodal Asia
Intermodal Asia is organised by Informa Exhibitions and the CCIA, and covers all areas of container transport and logistics across road, rail and sea. The event provides an invaluable industry forum, bringing together high-quality speakers and key exhibitors.
Informa Exhibitions also organises Intermodal Europe, the world-leading exhibition and conference for companies associated with the container and intermodal industries and now in its 41st year.

Keep up with latest news and discussions by joining the Intermodal Asia LinkedIn Group at www.intermodal-asia.com/linkedin and follow Intermodal Asia on twitter www.intermodal-asia.com/twitter. Visit www.intermodal-asia.com for further information.