GRAHAM's Highways Director, Dave Brown, has praised his team's "technical expertise" following the repair of two accident damaged bridges on the A47 in Norfolk.
A time-lapse video has captured the painstaking work, which shows two 28-metre-long beams, each weighting ten tonnes, being lifted into position on the bridges at the Saddlebow interchange in Kings Lynn.
The restorative programme was necessary following damage incurred by an over-height vehicle.
The £3.1m project began last October and was completed in May 2018.
It was delayed slightly as a crack was unexpectedly uncovered on one of the bridge decks.
The scheme involved jacking the bridge, the hydro demolition of the bridge deck and the removal of the steel edge beam before the damaged beams on the bridge were replaced. The deck was subsequently concreted.
"This was a very challenging project and one, which demonstrated the full range of technical expertise of our team," said Dave.
"The footage in the video showcases the complexity of the work involved and how our team rose to the challenge. We are pleased to have supported Highways England in improving road safety while also improving journey quality for drivers."
The repair work to the bridges at the Saddlebow interchange was part of a wider £18m package of work, consisting of approximately 70 different schemes, to maintain the A47 in Norfolk. GRAHAM has also carried out similar works in Cambridgeshire and Suffolk.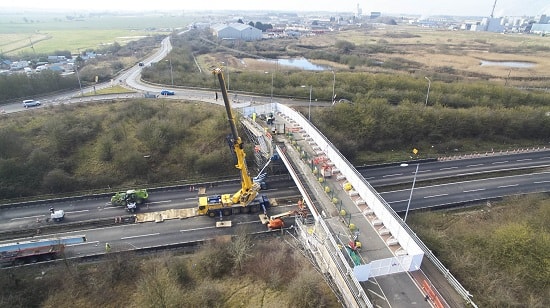 Highways England Project Manager, Ajith Nair, said:
"We're very grateful to drivers for their patience while we completed this vital work. The footage shows the amount and scale of the work we've been doing. It will help drivers to realise how busy we've been and why the roads over the bridges needed to be closed while we were repairing them."
GRAHAM has extensive highways experience and has delivered complex projects throughout the UK and Ireland including the award winning A138 Chelmer Viaduct in Chelmsford, Essex and the £277m M80 Stepps to Haggs scheme, which has transformed one of Scotland's busiest stretches of road network.
For more information on GRAHAM's highways projects please visit:
https://graham-uat.hosted.positive.co.uk/projects?expertise=Civil+Engineering
About GRAHAM
In 1878, local builder John Graham moved into the civil parish of Dromore, County Down. This was the beginning of the first continuous record of a company which has become known as John Graham Construction Ltd in 1955, evolving in 2007 into a holding company with three subsidiaries; GRAHAM Construction, GRAHAM Asset Management Limited and GRAHAM Investment Projects Limited. Fast forward 240 years later and today, GRAHAM employs more than 2,200 people across 12 regional offices in the UK and Ireland. It has grown to have a turnover in excess of £760 million and delivers an array of multidisciplinary projects, with more than 100 live projects at present.