GRAHAM's rail teams worked around the clock over the Bank Holiday weekend to deliver crucial upgrades to South East London's rail network.
The essential bridge replacements and supplementary works took place under abnormal track possessions at Bellenden Road Underbridge (Southwark) and Westdown Road Underbridge (Lewisham).
Both projects involved the replacement and reinstatement of two underbridges within a restricted 72-hour rail possession. The railway closures began at 01:20 on Saturday 26th May and finished at 04:00 on Tuesday 29th May.
The bridges carry National Rail, London Overground and Thameslink commuter services, as well as providing a busy thoroughfare for railway freight services.
The works were part of Network Rail's overall £78m investment in key asset maintenance and upgrades to more than 600 infrastructure schemes throughout the country.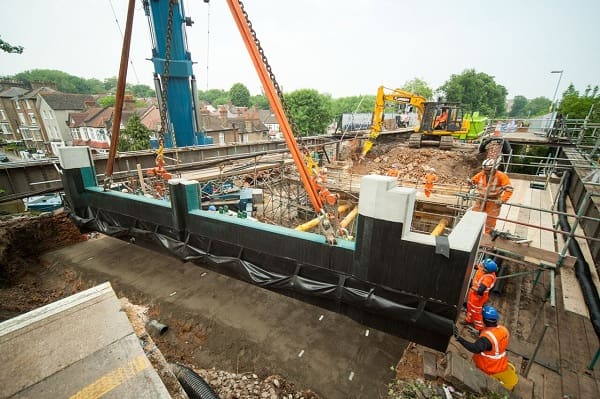 Successful completion
Commenting on the successful completion of the bridge projects, Leo Martin, GRAHAM's Managing Director – Civil Engineering, stated:
"Both schemes underline the technical expertise of our staff and supply chain, and their ability to deliver complex rail projects safely and to the highest standards within possession constraints.
"When working in these challenging rail conditions, safe and timely project delivery is only possible through close collaboration between ourselves, Network Rail, our supply chain partners and stakeholders. This was a real team effort and everyone pulled together to ensure the successful completion of these projects."
Works
As part of the Bellenden Road Underbridge upgrade, the GRAHAM team replaced the existing 12m single span deck with two new Network Rail standard U decks, which were 66t each.
The Westdown Road Underbridge project also centred on the replacement of the existing 12.5m bridge with two new Network Rail standard U decks, which were 74t each. It included the replacement of new station platforms.
Both projects featured propping to restrain the existing abutments from potential overturning, the removal of tracks and ballast, the demolition of the existing bridge and the installation of the new superstructure decks. New pre-cast concrete cill slabs were placed at each location. Additionally, the reinstatement and re-tamping of the tracks were completed before reopening to rail traffic.
Complexity
The works involved setting up heavy lift cranes, including a 350t crawler crane and a 500t mobile crane, on the roadways below each bridge location in advance of the railway closures.
The complexity of the works was made even more challenging by the severe weather conditions over the bank holiday weekend, with heavy thunder and lightning hampering crane lifts at critical times, and the team having to resolve a number of unforeseen issues as the project progressed.
At its peak, over 100 people were on site to deliver each respective project.
Meticulous planning
GRAHAM's rail experts have been meticulously preparing for the works over recent months in conjunction with a specialist supply chain, stakeholders, TOCs / FOCs and Network Rail.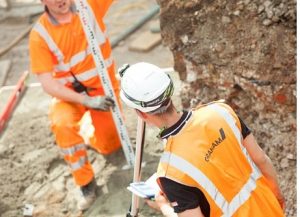 GRAHAM's Rail Director, Jonny Kerr, believes this advanced planning and teamwork was the key to the success of both projects.
"These complex bridge replacements were completed by our teams through their meticulous planning and technical expertise. The team worked closely with our various supply chain partners, stakeholders and Network Rail and their partners to ensure that there was minimal disruption to the rail network," said Jonny.
"There was a tremendous amount of planning done in advance, which allowed us to progress each project smoothly even with the challenges presented. Additional factors, such as operational High Voltage and S&T cable routes, required support and protection during the works."
"It's a tremendous achievement and I'm very grateful to everyone who rose to the challenge.
"We would like to thank the public for their patience during the closures."
Rail expertise
GRAHAM has completed a broad portfolio of award-winning work within the rail sector.
Examples of GRAHAM's expertise in delivering complex construction within an operational railway include the "Live Launch" of a 55m span, 515t bridge structure over ten railways lines in South London, slope stabilisation works in South Wales and the construction of a new railway station in the Midlands.
GRAHAM remains a family-owned company, and its traditional skills and values will always be something that helps to differentiate the organisation from its competitors. Values honed through a long history and belief that by continuing to do things the 'GRAHAM' way, customers throughout the industry will continue to value its experience and expertise.
The company is currently ranked 16th in the Sunday Times Grant Thornton Top Track 250, a list of the UK's 250 private mid-market companies with the largest sales growth. For more information visit the website: www.graham.co.uk