Dubai, one of the world's iconic cities, has been designated to host the International Road Federation's World Meeting & Exhibition on November 8th-11th, 2021.
Held every four years since the launch edition in Washington DC in 1952, IRF World Meetings have constituted a focal point for transportation leaders, as well as a one-of-a-kind opportunity to set strategic orientations across the entire sector.
The 18th IRF World Meeting aspires to be a global summit an technology showcase that is uniquely relevant to a wide cross-section of road mobility stakeholders. Building on analysis, dialogue and demonstrations, the World Meeting will set a high-level vision enabled by innovation, investments and policies.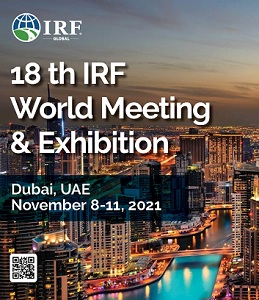 The World Meeting will combine keynote addresses from some of the world's foremost thought leaders, policy round-tables as well as hundreds of scientific contributions presenting the state of the art across 12 headline tracks. Particular attention will be paid to emerging challenges such as readying road infrastructure to autonomous vehicles, advanced travel demand management, safety of vulnerable road users, and energy-efficient infrastructure, to name a few.
A large-scale exhibition running alongside the World Meeting will offer delegates an opportunity to further their understanding of advanced road construction and mobility concepts in an immersive environment.
"We are thrilled to announce Dubai as the host of IRF's flagship event," noted C Patrick Sankey, IRF president & CEO. "Dubai's world-class transport system is a vivid illustration that long-term investment strategies improve the daily lives of citizens."
"It is a source of great pride that IRF is planning the premier event for transportation professionals in 2021 alongside our local host, the Dubai Roads & Transport Authority," added HE Abdullah Al-Mogbel, chairman of the IRF. "The presence of policymakers and road professionals, from different regions of the world and at different stages in their careers, is an essential component of this event. I call upon the global transport community to fully engage with the IRF throughout this process."
Dubai – Key Road Facts
The Dubai Roads & Transport Authority (RTA) has invested over US$16 billion on roads and transportation infrastructure since its establishment in 2005. Dubai and the UAE's highways have consistently been rated the best in the world, according to the World Economic Forum's Global Competitiveness Report.
Some of the most notable projects carried out in Dubai by RTA include:
• Improvement of Garhoud Bridge from three to seven lanes in each direction towards the North approach and six lanes towards the South approach, with a 16m clearance above the water to enable marine transportation.
• Construction of a floating bridge which has movable sections for watercraft passage which was constructed in 2007 as an additional connection between Deira and Bur.
• Constructing Dubai Water Canal which is an artificial canal inaugurated in 2016. It is a 3km -long project connecting Business Bay Canal into the Arabian Gulf.
• Expo 2020: road facilities leading to the main expo site will consist of eight interchanges with 80 bridges which will serve 250,000 visitors/day.
• Constructing the 52km-long metro red line, which was inaugurated on in 2009 with 29 stations. Constructing the 23km-long metro green line, which was inaugurated in 2011 with 20 stations.
H.E Mattar Al Tayer, Director General. Chairman of the Board of Executive Directors, RTA, said, "Dubai Roads and Transport Authority is excited to host the International Road Federation's World Meeting & Exhibition in November 2021. Such events provide the opportunity to showcase the latest in world-class transport infrastructure in the Middle East and helps establish Dubai's position as a city that is smart, safe and dynamic. The World Economic Forum has ranked the UAE as number one internationally from 2013 till 2017 for the quality of roads, with major contributions from Dubai while the Dubai Metro is the longest driverless metro system in the world. We are glad to report more than $46 billion savings in value of time and fuel since 2006 due to the infrastructural investments made. Factors like these make the city an ideal platform to host the Conference, where global experts can exchange ideas on developing sustainable road infrastructure that plays a key role in the development of any city."