Consumers overwhelmingly prefer embedded access for car connectivity, but smartphones may ultimately limit monetization of embedded access.
Despite the risks of distracted driving, vehicle owners overwhelmingly rely on their smartphones to access the Internet while behind the wheel.Parks Associates research shows that 65% of U.S. car owners who own a smartphone perform at least one activity on these devices while driving. This is a testament to significant pent-up demand for connected car solutions, which offer a variety of benefits for auto OEMs, dealers, and consumers alike.
With vehicle connectivity, auto OEMs gain new insight for product development and support, dealers have an opportunity to expand and deepen their relationships with customers, and consumers enjoy new experiences from vehicle ownership and when driving. Today, consumers access vehicle connectivity primarily through the infotainment system, in the form of apps. Connectivity is typically built into the car via an embedded cellular module, brought into the car through a user's smartphone, or a hybrid of both.

Nearly all OEMs already embed connectivity into at least some vehicle models. Without embedded access, consumers may need to use a tethering or mirroring method, both of which require a smartphone to be linked with the vehicle for the connected infotainment system to function. A tethering strategy is unique from the mirroring approach in that applications are built into the vehicle's IVI system so that app processing happens in the head unit. In contrast, mirrored apps are native to the smartphone while tethering primarily leverages the smartphone in order to send information across the phone's mobile broadband connection. The latter also does not need to have a cellular module.
OEMs must account for how consumers prefer their car connectivity. When asked how they would like to access connected features in the future, consumers overwhelmingly want embedded access, with 64% preferring this method. Parks Associates research shows 45% want to access these features through a tethered/mirrored smartphone experience, and only 39% indicate a desire to continue using their smartphone directly for at least one activity.

These numbers suggest that consumers are not put off by prior poor experiences with embedded vehicle systems and user interfaces. In fact, consumers gravitate towards the convenience of accessing connected features directly through the vehicle, without having to overcome the friction inherent in tethering a smartphone. For OEMs, an embedded approach offers more extensive connectivity services, reduced costs, insights for product development, and new revenue potential.

Despite these benefits, an embedded approach also has several drawbacks. First, this method requires OEMs to maintain a direct relationship with app developers. Navigating the complex and fragmented landscape of available partners while weighing the almost endless possibilities of partnerships across verticals and horizontals is difficult and requires significant organizational investment and support. Maintaining these relationships is similarly difficult for developers, who must work with OEMs to customize, validate, and test an app to ensure that it meets branding expectations, performance specifications, and usability requirements.

How consumers pay for those experiences is key for many drivers. Sixty-two percent of U.S. car owners would prefer to bundle data charges for embedded Internet access in the vehicle with their mobile data bill, while only 12% prefer a direct billing relationship with the auto OEM. The benefit of billing convenience is clear. However, the ubiquity of smartphones may ultimately limit consumers' willingness to pay for an additional connection in the car at all – even with convenient billing. As a result, OEMs are exploring strategies beyond consumer-pay models to fund connectivity costs.

Each of these connectivity solutions come with their share of safety and security concerns. Vehicles are distinct from other app-serving consumer devices, such as smartphones, tablets, and smart TVs. Poor app implementation or irresponsible app use by drivers can have life-threatening consequences. This means apps cannot be displayed or controlled in a vehicle the same way they are displayed and controlled on a phone, and the use of voice-control technologies will be critical to ensure drivers' eyes remain on the road and their hands on the wheel.

Adding connectivity to any device also raises hacking and data breach concerns, but the potential for unauthorized access to sensitive location information or control of a vehicle in motion is particularly disconcerting. Parks Associates notes that nearly half of all car owners in U.S. broadband households are very concerned about the security of their location data in a connected car and 43% are very concerned about their personal driving data, such as speed, mileage, hours driven, etc.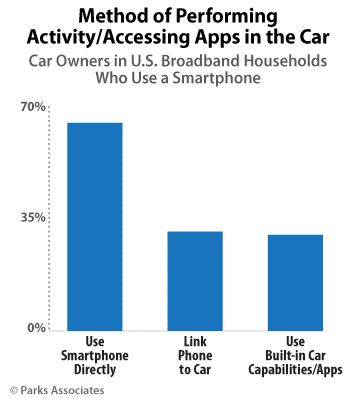 Despite these concerns, connected cars are diffusing beyond luxury drivers to the mass market in North America and Europe.The market shift has forced mobile network operators (MNOs) to add new devices to their networks, with AT&T now supporting an estimated 9.4 million connected vehicles on its North American network as of Q2 2016. Parks Associates research shows nearly 60 million light vehicles in the U.S. had a connectivity solution in 2015 and projects the U.S. connected vehicle market growing to 183 million cars, or 61% of the light vehicle fleet, by 2021.

Looking beyond the short-term and mid-term outlook for connectivity in the car, major potential benefits exist with updateable vehicles. Connectivity provides the means to send major software upgrades to the vehicle at little cost and almost no inconvenience to the customer. This is much more dramatic than it sounds and means that vehicles coming off the sales lot are no longer a finished product.
Over-the-air updates can be leveraged not only to fix bugs and avoid recalls, but also to enhance the driving experience and add new capabilities. Tesla, for instance, enabled limited self-driving functionality in its models that were already on the road via an OTA update, fundamentally changing the car that the driver purchased. This foundational but incredibly compelling benefit of connectivity is not marketed or truly leveraged by traditional OEMs. Connected car players with a long-term vision can plan for value-added benefits that are introduced to drivers years after the initial purchase.
By
Jennifer Kent
Director, Research
Parks Associates
www.parksassociates.com