The Tejas Express — India's first semi-high speed full AC train arrived in the city on Saturday. The luxury train, which boasts of several modern facilities on-board like LED TV and tea/coffee vending machine, was flagged off by railway minister Suresh Prabhu from CST for Goa on Monday.

The train with a speed of 130 km per hour is capable of clocking a maximum of 200 kmph.
The train will undertake its eight-and-half-hour journey five days a week between Chhatrapati Shivaji Terminus railway station in Mumbai and Karmali in Goa, a distance of 530 km. It was flagged off by Prabhu through videoconferencing from Dadar station in Mumbai.

The train's frequency will be three days a week during monsoon.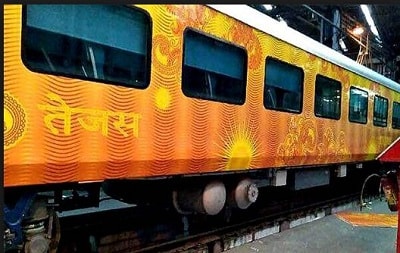 The 20-coach train also offers Executive and Chair class travel with tea/coffee vending machines, magazines, and snacks tables, besides closed-circuit television for security.
The coaches, manufactured at Indian Coach Factory in Chennai, include features like sensor-controlled water taps, water level indicators and hand dryers. All coaches have bio-vacuum toilets.

A one-way trip will cost Rs 2,740 with food, and Rs 2,585 without food. The fare for chair car is Rs 1,310 with food, and Rs 1,185 without food.

The train will depart from the Mumbai terminus at 5 a.m. every Tuesday, Wednesday, Friday, Saturday and Sunday from May 24 and reach Karmali at 1.30 p.m. the same day.

On return journey, it will leave Karmali at 2.30 p.m. on Tuesday, Wednesday, Friday, Saturday and Sunday from May 23 and arrive at Mumbai at 11 p.m. the same day.
During monsoon, the train will depart from Mumbai every Monday, Wednesday, and Saturday and begin its return journey at 7.30 a.m. every Tuesday, Thursday and Sunday.