Mobility as a Service is set to revolutionise the sustainability efficiency and convenience of transportation systems. On-demand transport has shifted consumer behaviour habits and aligned with aggressive city targets to lower emissions, reduce congestion and deliver economic growth has created a tipping point for new mobility business models.
Despite huge investment and much early promise, no long-term business model for mobility has of yet been established.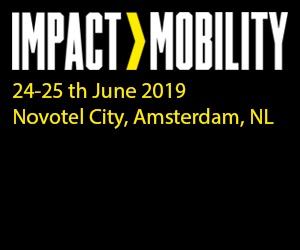 IMPACT>MOBILITY has been carefully designed to examine the business model and platform/data management challenges underpinning MaaS to find a win-win between the commercial imperatives of mobility service providers and the sustainability aims of the public sector.
Our 2-Day conference agenda, featuring 40+ public/private senior leaders from across the European Mobility ecosystem,will address the partnerships, commercial business models and data-sharing challenges head-on.
• 10+ citycase studies (incl. Amsterdam, Barcelona, Oslo and London) looking at infrastructural, partnership and data challenges and how these can be resolved
• Highly specific cross-industry panel conversations led by world leading consultancies and think-tanks to ask the difficult questions and deliver tangible outcomes
• A non-siloed approach with all conversations on one stage, the agenda is carefully designed to encourage multi-industry leaders to listen, respond and collaborate
Key Agenda Themes:
1. ENABLING MAAS THROUGH PUBLIC/PRIVATE PARTNERSHIPS
2. DATA PLATFORMS & NEW BUSINESS MODELS
3. THE ROADMAP TO MOBILITY AS A SERVICE
4. MICROMOBILITY – DOING IT RIGHT
5. INVESTMENT & FINANCING MOBILITY
6. URBAN INFRASTRUCTURE FOR AUTONOMOUS/ELECTRIC VEHICLES
7. LAST MILE LOGISTICS & MOBILITY INFRASTRUCTURE
With 50+ European cities attending and 10+ city specific-case studies presented on stage, we bring together 200 of the leading voices, influencers and gatekeepers to European new mobility deployment.The role of mass transit in delivering truly intermodal MaaS is critical and as such we have extended 20 complimentary passes for EMTA members to join us.
IMPACT>MOBILITY takes place on 24-25 June in Amsterdam – View the conference agenda here.