Liverpool's golden boy and former footballer Steven Gerrard will be the celebrity in residence at this year's World Travel Catering & Onboard Services Expo (WTCE®, 10-12 April 2018) as he launches his all-natural Angel Revive water brand.
Captured from a 500-year-old natural water spring in Lancashire, the brand is ready to take to the air. The premium water is sourced from a clay rock in Mawdesly, is 8.2 on the alkaline scale and naturally contains electrolytes, which are artificially added in most other competitor brands. These properties help rejuvenate the skin and increase metabolism to combat the natural dehydrating effects to the body when flying.
Square packaging has been developed for sale to airlines for necessary stability purposes. Once the water is off the ground, the company has plans to extend its portfolio with face wipes and soluble rehydration tablets on the agenda, all utilising the beneficial properties lent to the products by the naturally occurring electrolytes and alkaline.
Steven Gerrard will be at WTCE in Hamburg (10-12 April) on 12 April between 12-2.30pm and is keen to meet potential customers and explain the story behind Angel Revive. A smaller 100ml bottle has also been developed specially to give away as samples to interested parties at the show.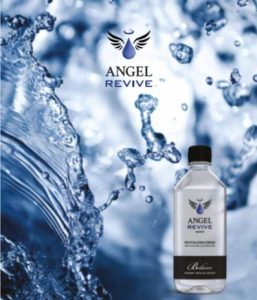 DS Partnerships is the group that works with high level brands and introduces them into the aviation sector with co-partner Blue Napkin. David Sharp, Managing Director said: "The water sells itself with its natural credentials, making it ideal for sale onboard.
"We have chosen to officially launch the brand at WTCE 2018 for its great routes into aviation, rail and cruise lines. It is the only show where everyone in the travel business truly comes together and is in everyone's calendar, which makes it the perfect show to introduce Angel Revive."
The brand will not go into grocery distribution, though will be found in health shops in a rounded bottle. Visit Steven Gerrard and Angel Revive, which is represented by Blue Napkin, in Hall A3. Contact david@bluenapkin.net to secure a one to one meeting with Steven Gerrard.
WTCE remains the number one event for buyers from the world's international, charter and regional airlines and rail operators, as well as cruise and coach companies. It also offers a unique platform to see the newest products and innovations, benefit from expert insight and advice and network with peers. For more information or to register to attend, visit www.worldtravelcateringexpo.com.
About Passenger Experience Week
Four leading events – the Passenger Experience Conference, Aircraft Interiors Expo, World Travel Catering and Onboard Services Expo and Passenger Technology Solutions – one week, one destination. Delivering content, driving innovation and developing connections to transform your business. Showcasing the latest in cabin interiors, inflight entertainment and connectivity, onboard technology, passenger comfort, catering and travel retail to create the ultimate passenger experience. Taking place 9-12 April 2018 in Hamburg, the events attract more than 18,000 visitors including 2,000 buyers and decision makers from major full service, regional and charter airlines and rail operators and offers the opportunity to meet face to face with suppliers and manufacturers covering the full spectrum of the industry.
https://www.passengerexperienceweek.com
About Reed Exhibitions
Reed Exhibitions is the world's leading events organiser, with over 500 events in over 30 countries. In 2016 Reed brought together over seven million event participants from around the world generating billions of dollars in business. Today Reed events are held throughout the Americas, Europe, the Middle East, Asia Pacific and Africa and organised by 38 fully staffed offices. Reed Exhibitions serves 43 industry sectors with trade and consumer events. It is part of the RELX Group plc, a world-leading provider of information and analytics for professional and business customer across industries.