Minister of Maritime Affairs and Insular Policy, MrFotisKouvelis, announced during the Slide2Open Shipping Finance 2019 conference,that the legislative framework for the realization of significant investment in 20 large Greek ports (apart from Piraeus) is almost complete.
The conference took place on Thursday 24 January 2019, in Athens, organized by Slide2Open Communications, in association with Karatzas Marine Advisors & Co, under the auspices of the Hellenic Ministry of Maritime Affairs and Insular Policy and the Hellenic Chamber of Shipping.
In greater detail, Minister Kouvelis noted that Greek shipping was hit by the crisis and that shipping finance will be negatively affected for as long as the side effects of the crisis persist. He stressed the need to renew the fleet and adopt new ways of funding, adding that leasing is one of them. The Greek State supports leasing, provided that the vessels acquired shall fly the Greek flag. He also stressed that significant investment will be required over the next years, due to changes in fuel, and added that the State will support the development of realistic plans for this transition, underlining that the State is open to ideas that will help Greek Shipping maintain its lead.
Last, he noted that legislation for sub-concessions in 10 major ports (including Corfu, Igoumenitsa, Volos, Heraklion, Patras and Alexandroupoli) is at the final stage; these concessions relate to specific activities such as cruise, yachting, ship repair, management and transport of liquefied fuel, etc.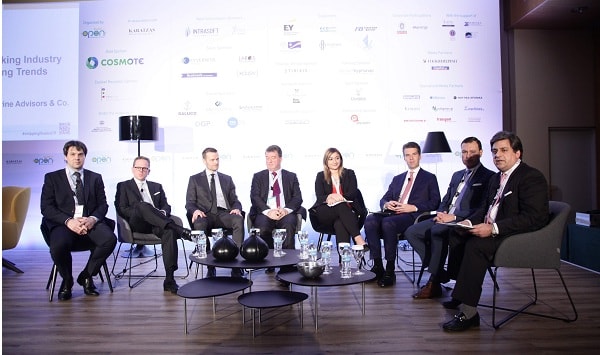 The former President and head of the shipping policy branch of the "New Democracy" politicalparty John Plakiotakis stressed the challenges deriving from the stricter regulatory framework and changes in legislation concerning fuel. He noted the need for new vessels and new ways of shipping finance. He predicted an increase in demand for dry cargo and stressed that there exists no ideal way of funding, while there must be political will to support the shipping cluster and to upgrade public and private shipping education. He also stressed that the legislative framework has to be simplified in order to attract investors, noting that the Greek shipping industry currently supports, directly or indirectly, 250,000 jobs.
Basil M. Karatzas, CEO of Karatzas Marine Advisors & Co, talked about "toxic lending", which is a drag for the shipping sector as a whole and noted that the new reality poses a challenge also for banks, which will have to become more flexible and adjust to the new environment. He noted that there exist many trends and that prudent management is required.
Prof. Dr.Wolfgang Drobetz, Professor of Corporate Finance and Ship Finance in the Department of Business Administration of the University of Hamburg, presented an equation which reveals that the market does not believe much in the development of the shipping sector. In turn, this leads to low investment. He added that growth expectations are higher in the general market, as opposed to the shipping market, and noted that the risk in the shipping market is high, while one cannot exclude the emergence of a "bubble".
Dr. George D.Pateras, Deputy Chairman of Contships Management Inc. and President of the Hellenic Chamber of Shipping, discussed the fast evolution of the sector and moved on to a "self-criticism". He stressed that "we are victims of our success, which led us to greed", noted that the shipping markets are improving, and expressed the hope that shipping has learnt from its past mistakes.
Anastasios V.Papagiannopoulos, President of BIMCO andPrincipal of Common Progress CoNa SA, discussed the high uncertainty surrounding the trade war between the United States and China and expressed the hope that it will end within the year. He stressed that protectionism hurts shipping and that universal rules for shipping are required in order to ensure a level playing field. An important issue is the choice between scrubbers and low sulphur fuel and he concluded that "we must be proactive and keep an open mind".
George Prokopiou, founder of Sea Traders S.A., Dynacom Tankers Management Ltd. andDynagasLtd., in his interview to the Wall Street Journal's Costas Paris said that the crisis after 2008 is due to the problems of the banking sector being transferred to the shipping sector, just as in the past commercial activity had been hit by high interest rates imposed by the banks in an attempt to overcome their own problems. He also predicted that the trade war between the United States and China will be smoothened out over the next 5-6 months because, if it continues, potential losses will exceed potential gains. He added that 15% of the world fleet will have fitted scrubbers by 2020, when the new environmental regulations will enter into force.
It is for this reason that the remaining part of the world fleet will have to seek other solutions. He also noted that LNG will be the least harmful fossil fuel and will "bridge" the transition to clean energy solutions. Finally, he submitted his own proposal, namely to design new vessels with an emphasis to new engines, propellers, etc. Were this to happen, the sector would gain more than 50% of emission reduction resulting from the reduced speed of vessels alone.
After lunch, the "From Physical to Digital" session of the Conference started with Ruthie Amaru, Chief Marketplace Officer in Freightos – Amazon FBA Shipping Calculator, who informed the audience that 40% of shipping firms has already drafted a digital strategy, which proves that digital transformation is underway, even if individual company policies are not always the right ones. She noted that shipping firms are afraid of digital transformation and went on to explain that there is nothing to fear; on the contrary, if they do not move to it, they may lose in terms of competitiveness. Digital transformation offers many opportunities, and it is up to us to recognize and capture them – risk often yields the best things in life.
Yuri Bender, editor-in-chief, Professional Wealth Management, at The Financial Times, coordinated the "Where there is a will, there is a way" panel, and discussed with George D. Gourdomichalis, Managing Director, Phoenix Shipping & Trading S.A., Stavros Gyftakis, Chief Financial Officer, Seanergy Maritime Holdings Corp., HarryKosmatos, Corporate Development Officer, Tsakos Energy Navigation Ltd., JohnPlatsidakis, f. Chairman, INTERCARGO, Managing Director, Anangel Maritime Services Inc., and George A. Tsavliris, Principal, Tsavliris Salvage Group.
Panelists stressed that shipping is a longevity business passed on from generation to generation and this is the model of the traditional Greek family shipping business. The rules of business and society have changed. Only 12% of Fortune 500 firms from 1955 still exist today, whereas committed Greek shipping firms continue to prevail. They all agreed that the perception of shipping in the future will be highly different and they wondered: Will we be able to cope with over regulation? They concluded that shipping will depend on other substantial forms of financing, ie equity, bonds, etc. and availability of finance will be restricted.
The last panel of the Conference, "The New Wave: The Next Generation in Shipping", comprised the young generation of shipping. The discussion was moderated by Danae Bezantakou, CEO of Navigator Shipping Consultants, and the participants were George Sp. Alexandratos, General Manager, Apollonia Lines SA & Vice President, Hellenic Chamber of Shipping; Alexander C. Hadjipateras, Executive Vice President of Business Development, Dorian LPG (USA) LLC; and IsabelleRickmers, Managing Director, Zeaborn Ship Management. All speakers shared their experience, the difficulties and the adverse situations they had to deal with without having the required experience and the possibility to establish shipping startups in Greece.
The epilogue of the Conference works was addressed byManolisVordonis, f. Chairman and Executive Director of Thenamaris Ship Management Inc. who noted that he listened to young people talking about regulatory frameworks, new technologies etc., but they were using "another" language, as they discussed a lot about people, the human factor and feelings. He stressed that the shipping industry is developing with the help of (and rendering a helping hand to) other industries; that it is in the shipping DNA to serve people and that it will keep on doing it with zeal and love. He concluded with this feeling of love and called all participants to "make our country as it was".
For more information on the Conference, please visit http://www.slide2open.net/el/shippingfinance2019/