Bosch is still on course for growth: this year, the company's mobility business is expected to increase its sales from day-to-day business by four percent, and will thus continue to grow twice as fast as automotive production. Bosch generates one-fourth of its sales revenue from technology for commercial vehicles, ranging from vans to 40-ton trucks. Its business with solutions for trucks and off-highway vehicles is growing especially rapidly, at a rate of between seven and eight percent. Bosch is active in a growing market.
In 2017, sales of heavy trucks grew by almost eight percent in China, 18 percent in the United States, and 45 percent in India (source: VDA). "As road freight evolves to face the future, Bosch offers both commercial and technological strength in equal measure," says Dr. Rolf Bulander, chairman of the Mobility Solutions business sector of Robert Bosch GmbH. The major driver is its powertrain business for commercial vehicles. Global sales of diesel injection systems grew by one-third in 2017 alone, and even faster in China. In the years ahead, these sales will stabilize on a high level. Bosch has 2,600 engineers alone working on the truck powertrain of the future. By the end of the year, the Mobility Solutions business sector will employ over 54,500 R&D associates – 5,000 more than at the beginning of the year.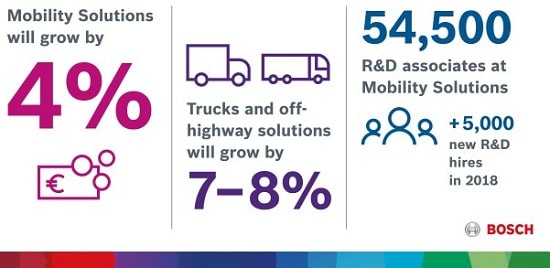 Climate protection, air pollution, urbanization, driver shortage: the logistics sector faces a series of major challenges. And as if that were not enough, road freight will increase by another 50 percent by 2040 (source: Shell). "One of the most pressing issues of traffic policy in the light of growth in road freight is what we can do to minimize its impact on the environment, people, and the road network,"
Bulander says. Bosch has some technical solutions, and not just under the hood – some are connected services that go beyond the vehicles themselves. "We want trucks to be beasts of burden, but not a burden for others," Bulander says. Bosch's vision: road freight of the future should ideally be as free of emissions, accidents, and stress as possible. The path to this goal incorporates electrification, automation, and connectivity for commercial vehicles. From combustion engines to fuel cells: Bosch is bringing energy to the powertrain
An important milestone for Bosch is to make commercial-vehicle powertrains more efficient and thereby reduce fuel consumption as well as emissions of CO₂ and nitrogen oxides. To achieve this goal, Bosch is working to further develop both diesel and alternative powertrain solutions. "For many years to come, the development of commercial-vehicle powertrains will involve a number of disciplines. We would be well advised to approach their electrification with a technologically open mind," Bulander says. In 2025, 80 to 90 percent of all trucks will be diesel-powered. But by 2030, one in four new commercial vehicles worldwide – nearly one in three in China – will be electrically driven. "Nobody who wants to give heavy trucks a secure future can afford to rule out the option of producing alternative fuels using electricity from renewables, known as synfuels," Bulander says.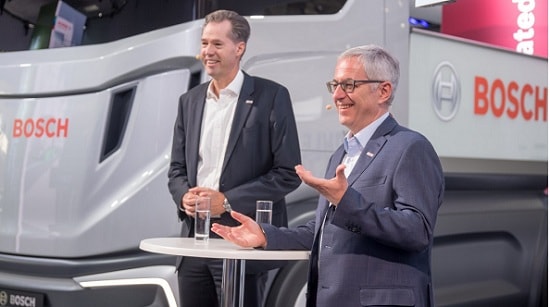 Bosch has set itself the goal of being the international market leader in electromobility. To this end, the company offers appropriate solutions and has a broad portfolio for the electrification of commercial vehicles – e.g. 36-volt power packs for cargo e-bikes, the e-axle for delivery vans, and fuel-cell powertrains for 40-ton trucks. Bosch is developing the latter in partnership with the U.S. start-up Nikola Motor Company. In addition, Bosch has entered into a strategic partnership with Weichai Power, a Chinese manufacturer of engines for commercial vehicles, to promote the uptake of fuel cells. But Bosch is not only ensuring new vehicles are electrically driven: it also offers electromobility as a retrofit – with an electrified axle that can be integrated into semitrailers. This means they can generate electricity during braking and feed it into the trailer's power units. In the case of a refrigerated trailer, Bosch calculates that this can deliver annual savings of up to 10,000 euros.
Bosch is teaching trucks to drive
Another major growth area alongside electrification is the automation of commercial vehicles. In both areas, the signs are set for double-digit market growth over the next decade. Bosch sees driver assistance as a step along the way to automated driving. When trucks are involved in accidents, the risk of fatalities is twice as high. For Bosch, this is reason enough to use driver assistance systems to make truck drivers' lives easier and the roads safer. The turn assistant, blind-spot recognition, and predictive emergency braking system help prevent truck accidents – and Bosch offers the necessary radar sensors among other products.
Automation of commercial-vehicle driving also presents further challenges for the transportation industry: even now, there are 50,000 too few truckers in the United States, and that figure is likely to triple within ten years. Europe is in a similar situation. In answering these challenges, Bosch sees a great deal of potential in hub-to-hub automation: driverless trucks shuttling between depots. This technology has the potential to resolve several transportation industry problems at once, increasing logistics companies' economic efficiency, transport volumes, and safety. Platooning, or the automated driving of trucks in each other's slipstream, is in Bosch's view a logical further step in automation. This saves not only labor costs, but also fuel. However, it also means that legislation, technology, and infrastructure have to satisfy stricter requirements. Bosch is involved in major EU research projects in the field.
For Bosch, connectivity means new efficiency for transport systems – and thus relief for our congested roads as well as for logistics companies. When it comes to the logistics of the future, Bosch can contribute twofold technical expertise: on the one hand, its broad knowledge of the commercial-vehicle domain, and on the other its profound IoT expertise. "Bosch enables digitally connected logistics solutions, from freeway to front door," says Dr. Markus Heyn, member of the Robert Bosch GmbH board of management responsible for the commercial-vehicle business. Today, nearly every new truck in Europe and the United States is part of the internet.
In this context, Bosch supplies truck manufacturers with telematics platforms that make things such as software updates or predictive diagnostics possible, which also opens up new business in connected services. Even now, the company's service centers are using the relevant sensor systems to monitor the condition of especially critical deliveries of goods, including vital goods such as blood plasma – around the clock. Every year, the control centers monitor nearly 40,000 high-value truck loads in transit.
Bosch is also using the internet of things to automate delivery tracking: sensors on goods and containers transfer information about position, temperature, and vibration to the cloud. Initial experience in the field shows that these real-time logistics solutions mean that dispatchers can cut their search and inventory effort by more than half. Moreover, they increase the availability of reusable containers by as much as 30 percent. Bosch wants connectivity to make road freight altogether more productive and reduce the burden on the road network. "Whether through electrification, automation, or connectivity, Bosch solutions are helping to ensure that road freight does not come up against the limits to growth," Heyn says.