Wabtec Corporation has entered into a definitive agreement to combine with GE Transportation, a unit of General Electric Company . The combination will make Wabtec a Fortune 500, global transportation leader in rail equipment, software and services, with operations in more than 50 countries.
Under the agreement, which has been approved by the Boards of Directors of Wabtec and GE, GE will receive $2.9 billion in cash at closing and GE and its shareholders will receive a 50.1% ownership interest in the combined company, with Wabtec shareholders retaining 49.9% of the combined company. The transaction is expected to be tax free to the companies' respective shareholders.
Both companies are expected to benefit from the cyclical tailwinds they are experiencing as industry conditions improve. GE Transportation revenues and EBIT are expected to grow at double digit CAGRs from 2017A to 2019E as the cycle rebounds from trough levels. The GE Transportation business is positioned for a significant rebound, with estimated adjusted EBITDA growing from about $750 million in 2018 to between
$900 million and $1 billion in 2019. The backlog of approximately $18 billion includes about 1,800 new locomotives and approximately 1,000 to be modernized. GE Transportation has received $3.6 billion in orders in the last two quarters. Wabtec reported a strong Q1, also forecasting robust growth for the year with record backlog.
The combination will bring together two global leaders in rail equipment, services and software, combining GE Transportation, a global digital industrial leader and supplier to the rail, mining, marine, stationary power and drilling industries, with Wabtec's broad range of freight, transit and electronics solutions. Wabtec and GE shareholders will have ownership in a combined company with significantly expanded margins, a highly attractive growth profile based on an improved business mix, expanded global reach, and faster innovation in key growth areas.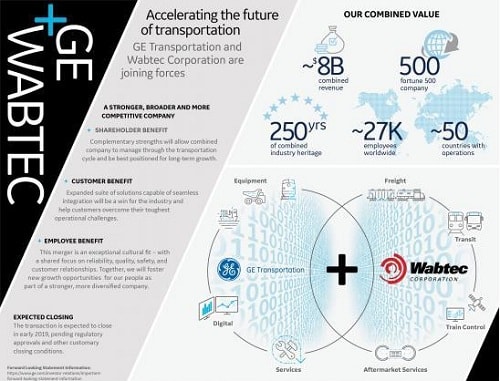 KEY STRATEGIC BENEFITS
The combination is expected to:
Drive increased value for shareholders: With approximately $8 billion in combined revenues and a large global installed base, the combined company will have a leading position in key freight rail and transit geographies worldwide, and will be well-positioned to serve customers as industry demand continues to improve. Investors are expected to benefit through ownership of a stronger, more diverse business better positioned to perform through the cycle, with expected annual double-digit EPS growth and total run-rate synergies of about $250 million estimated to be achieved by 2022. Furthermore, the transaction will facilitate a tax step-up with an NPV of approximately $1.1 billion of net tax benefit accruing to the combined company.
Create a leading equipment, aftermarket services, and digital solutions provider across the transportation ecosystem: From factory to final destination – and every point in-between – the combined company will have the capabilities to accelerate lifecycle solutions for the transportation industry and unlock significant productivity for customers by improving interoperability, efficiency, and competitiveness.
Capitalize on digital/electronic technologies to develop autonomous capabilities: Bringing together GE Transportation's digital solutions with Wabtec's electronic systems is expected to drive the advancement and implementation of technology solutions to improve safety, efficiency and productivity for the transportation industry. This combination will create a compelling offering to meet the industry's rapidly growing demand for rail performance, with the potential to unlock billions in annual savings across freight rail for customers and operators.
Generate growth opportunities through the extensive installed base and attractive global footprint: The combined company will be a leading global freight and transit rail provider with more than 23,000 locomotives in its global installed base and content on virtually all locomotives and freight cars in North America, creating significant opportunities for aftermarket parts and services in key regions around the world.
Effective immediately, Wabtec Chairman Albert J. Neupaver has been re-appointed executive chairman of the company, while Raymond T. Betler remains Wabtec's president and CEO. Following the completion of the transaction, Stéphane Rambaud-Measson will become president and CEO of Wabtec's Transit Segment; and Rafael Santana, president and CEO of GE Transportation, will become president and CEO of Wabtec's Freight Segment.
Betler said: "Wabtec and GE Transportation are global industry leaders and we believe that together we have a unique opportunity to drive tremendous growth in 2019 and beyond as the industry continues to improve. By bringing together our highly complementary strengths we are confident that this transformational combination will create value for both Wabtec and GE shareholders, innovative solutions for our customers, and new outlets for long-term career growth for our employees. Our two companies have more than 250 years of rail industry heritage, and our shared focus on safety, reliability, quality, and customer relationships will enable a smooth integration."
Santana said: "The combination of our two strong brands and remarkable people is an excellent fit that will create an organization well-positioned to accelerate the future of transportation. Together, we can expand our global reach, strengthen our market capabilities and lead digital innovation across the transportation industry. We are seeing growth in rail traffic and recent promising orders for new and modernized locomotives from North American Class I, Shortlines and international railroads, and are confident in the compelling long-term opportunities and synergies before us."
GOVERNANCE AND HEADQUARTERS
Following the completion of the transaction, Wabtec's corporate headquarters will remain in Wilmerding, Pa. Wabtec's Freight Segment will be headquartered in Chicago, and Wabtec's Transit Segment headquarters will remain in Paris.
GE will designate for nomination three independent Board members.
TRANSACTION DETAILS
GE will receive a $2.9 billion up-front cash payment, and GE and its shareholders will receive a 50.1% ownership interest in the combined company. Based on Wabtec's stock price on April 19, 2018, the last unaffected trading day prior to media speculation regarding a potential transaction, the value of the transaction is approximately $11.1 billion. When adjusted for the net tax step-up value of $1.1 billion accruing to the combined company, the transaction value is $10 billion. The transaction is expected to be tax free to the companies' respective shareholders.
Wabtec and GE Transportation will be combined in a transaction in which GE will (i) sell a portion of the assets of GE Transportation to Wabtec; (ii) complete the spin-off or split-off of a portion of GE Transportation to GE shareholders; and (iii) immediately thereafter merge GE Transportation with a wholly owned subsidiary of Wabtec. Upon closing, Wabtec shareholders will own approximately 49.9%, and it is planned that GE shareholders will own approximately 40.2%, and GE will own 9.9% of the merged company on a fully diluted basis. GE has the right to increase the portion of the merged company owned by GE shareholders (subject to a corresponding reduction in GE's ownership).
Wabtec has obtained full commitments for a $2.9 billion bridge facility and expects to put in place permanent debt financing prior to closing. The Company is committed to maintaining a strong investment grade credit rating profile and will use its strong cash flow to prioritize debt reduction.
The transaction is expected to close in early 2019, subject to customary closing conditions, approval by Wabtec shareholders, and regulatory approvals.
CONFERENCE CALL AND INVESTOR INFORMATION
Wabtec and GE Transportation will host a conference call today at 8:30 am Eastern to discuss the transaction. An audio webcast of the investor call can be accessed at https://engage.vevent.com/rt/kekstandcompanyao~1688628. A replay will also be available at the same link after the event. You can also access the link by going to www.wabtec.com and clicking on the "Webcasts" tab in the "Investor" section. To view a copy of the presentation that will be discussed during the call, click on the "Press Releases" tab under "About Us" and click on the press release titled "Wabtec and GE Transportation to Merge." The presentation will be included at the end of the press release on the website.
ABOUT WABTEC
Wabtec Corporation is a leading global provider of equipment, systems and value-added services for transit and freight rail. Through its subsidiaries, the company manufactures a range of products for locomotives, freight cars and passenger transit vehicles. The company also builds new switcher and commuter locomotives, and provides aftermarket services. The company has roughly 18,000 employees and facilities located throughout the world. For the fiscal year ending December 31, 2017, Wabtec generated approximately
$3.9 billion in revenue and $504 million in adjusted EBIT (approximately 13% margin).
ABOUT GE TRANSPORTATION
GE Transportation helps move the world and improve the world, as a global technology leader and supplier of equipment, services and digital solutions to the rail, mining, marine, stationary power and drilling industries. GE Transportation's innovations help customers deliver goods and services with greater speed and savings using advanced manufacturing techniques and connected machines. The company employs approximately 9,000 employees worldwide. GE Transportation has a backlog of roughly $18 billion, including approximately 1,800 new locomotives and roughly 1,000 locomotive modernized units. For the fiscal year ending December 31, 2017, GE Transportation generated approximately $3.9 billion in revenue and $701 million in adjusted EBIT (approximately 18% margin).