Customers are set to benefit from a new appointment at Hull Trains after Khalid Amin joined the company as Head of Digital.
Khalid, who has more than 15 years of experience in e-commerce and digital marketing with travel companies such as SuperBreak and British Airways, will spearhead digital innovation for the train operating company to further enhance customer experience.
Hull Trains is already a leader in technological enhancements in rail – introducing the UK's first 4G-enabled, single sign-up Wi-Fi with access to ITV programmes in 2015. The firmalso introduced on-board passenger information in 2016 and launched mobile/e-tickets on its app.
As mobile technology continues to advance at an escalating rate, Hull Trains continues to innovate and adapt to provide more for all who use its services.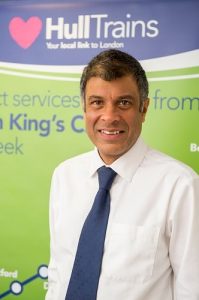 Khalid said: "Digital tools and apps are an important part of our customer's experience. We're looking at how customers usethe website and the app and utilising the feedback they give us to improve them.
"The first change customers will see in the coming weeks is an update to our app to improve the user experience.
"I am delighted to join the Hull Trains team and I am looking forward to making a difference to our customers from a digital perspective."
As app usage grows, the firm is driven to add features to the app which make a visible difference for users. Hull Trains has already streamlined the booking screens through a new, cleaner design, allowing customers to see cheaper tickets quicker. The recent significant increase in e-ticket usage has also seen growth in app use – e-tickets have become an increasingly popular choice with Hull Trains customers.
Khalid said: "Hull Trains recognises that booking a ticket is purely one part of a customer's journey. We want to ensure that that journey is made as easy as possible, so our customers can plan their onward journey ahead and enjoy their trip.
"We continue to encourage anyone using Hull Trains to come forward with feedback on our digital services – we want to continue to be an innovative leader in the rail industry that provides the best levels of customer service – and the digital component is a vital part of that."